The journey of windows start from 1960s when 2 teenage boys started making computer programs for fun and profit . At that point they had never thought that one among them would be the richest man alive.
Microsoft, as we all know it today, was found by two friends Bill Gates and Paul Allen. Their journey started by first developing a computer high-level language BASICS which they sold to Altair 8800. In June 1981, Microsoft incorporated itself.
Origin of Windows
Windows relies on what's called a graphical user interface (GUI), first developed – but left to gather dust – by Xerox back in 1975. A conventional GUI will consist primarily of the combination of "window, icon, menu and pointing device", or WIMP.
Xerox was the first to develop the GUI, Apple was the first to try and fully commercialize it for the original Macintosh. Microsoft worked closely with Apple developing applications for the Macintosh, and Gates drew Jobs' legendary ire when Microsoft went and quickly developed its own version: Windows 1.0.
"I think it's more like we both had this rich neighbor named Xerox and I broke into his house to steal the TV set and found out that you had already stolen it," retorted Gates, during the two tech visionaries testy confrontation.
1985 Windows 1.0(AKA Interface Manager)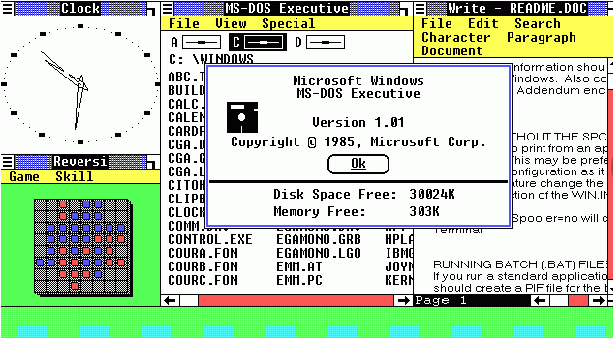 Windows originally code named interface manager was announced by Bill Gates in 1983 but didn't ship until 1985. It was an Operating System running on MS-DOS, hence it had so many features of the DOS command line. It included utilities like calendar, calculator, notepad, terminal, and clock.
1.0 had RAM Drive,for managing memory cards designed to beat the PC's 640kb memory limit.
1987 Windows 2.0 (AKA Nixa)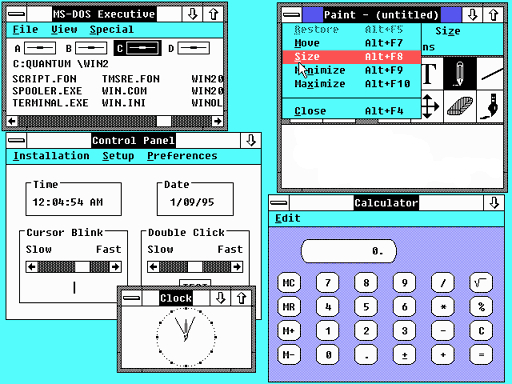 Windows 2.0 bought the feature to overlap applications one another and also introduced the "Minimize" and "Maximize" options that remain so central to our use of computers today.
1990 Windows 3.0 (AKA Cedar)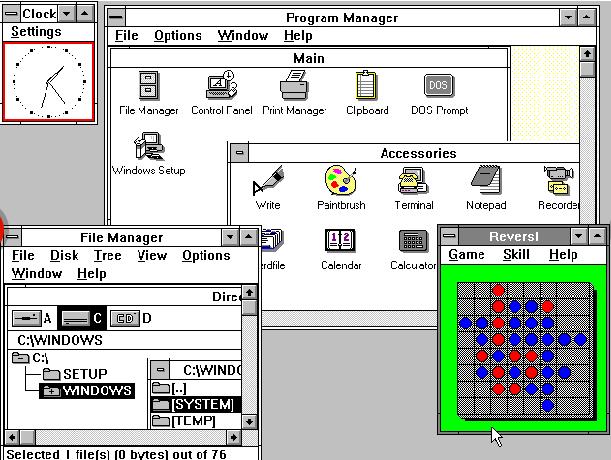 Windows 3.0 ensured that Microsoft entered the new decade on a commercial high. The origins of Windows 3.0 were interesting. Microsoft employees David Weise and Murray Sargent independently decided to develop a protected mode Windows as an experiment. They presented the prototype to company executives, and this transformed it into an official project.
Program Manager and File Manager made their first appearance here, along with a redesigned Control Panel and Solitaire — a Windows staple to this day. Everything looked better thanks to Windows 3.0's support for 256-colour VGA.
1992 Windows NT 3.1 (AKA Janus)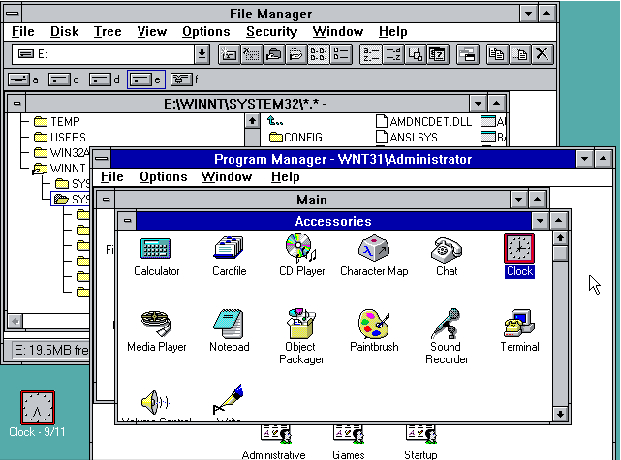 Windows 3.1 was the first in a series of 16-bit operating systems. It required a minimum of a 286 PC with 1 MB of RAM to run, adding greater system stability to 3.0, which was a little crash-prone. It was also capable of accessing up to 4 GB in 386 Enhanced Mode.
It was initially developed for the Intel i860, whose N-Ten code name gave NT its name, NT variants have appeared on many CPU architectures, including IA-32,x86-64, Alpha.
1995 Windows 95 (AKA Chicago)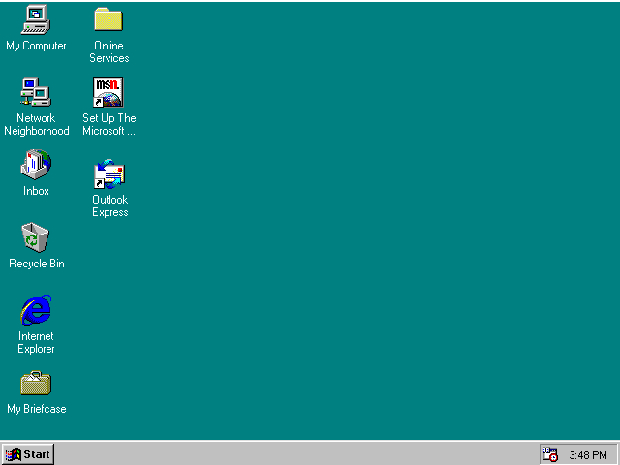 Windows 95 was the moment when Windows got real. A proper marketing drive from Microsoft, which included Start Me Up and the above dancefloor aberration, helped drive consumer interest, and Windows 95 sold over 40 million in the first year. Pivotal additions included the "Start" button and taskbar.
Windows 95 was a consumer-oriented hybrid 32-bit/16-bit OS with a brand-new user interface and modern features like plug-and-play automatic device detection and configuration.
1998 Windows 98 (AKA Memphis)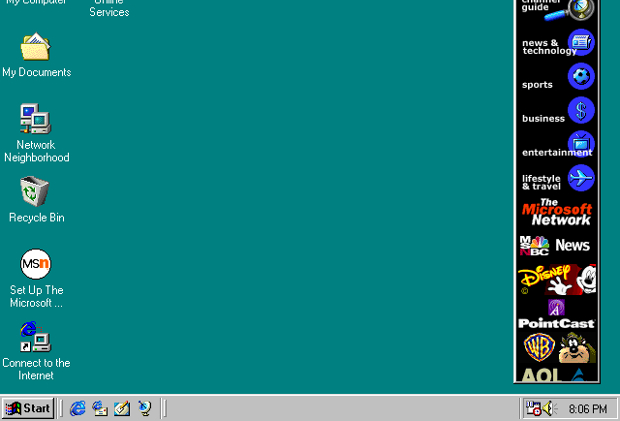 Windows 98 was even more consumer-friendly than its predecessor Windows 95.With Windows 98, you can find information more easily on your PC as well as the Internet. Other improvements include the ability to open and close programs more quickly, and support for reading DVD discs and universal serial bus (USB) devices.
2000 Windows 2000 Professional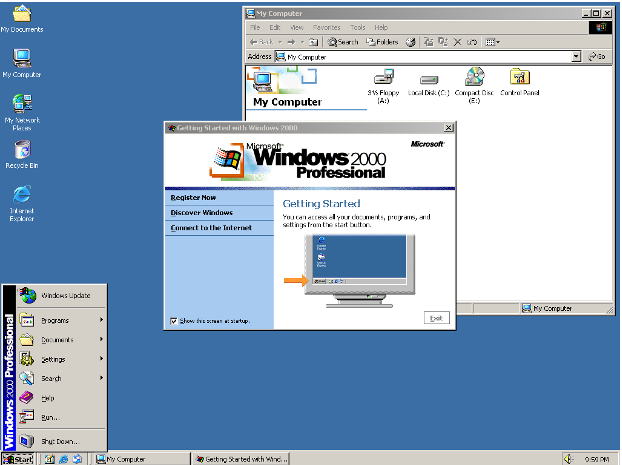 Built on the Windows NT 4.0 code base and designed to replace both NT 4.0 and Windows 98 – although Microsoft subsequently released the ill-starred Windows ME – Windows 2000 Professional brought significant improvements such as plug and play with full ACPI and WDM support, plus many features from the Windows 98/98 SE product line.
New across all Windows 2000 editions were NTFS 3.0, the Encrypting File System (EFS), Logical Disk Manager, an LDAP/Active Directory-enabled Address Book and the Microsoft Management Console (MMC). Windows File Protection prevented unauthorized programs from modifying critical system files.
2000 Windows ME (AKA Millennium)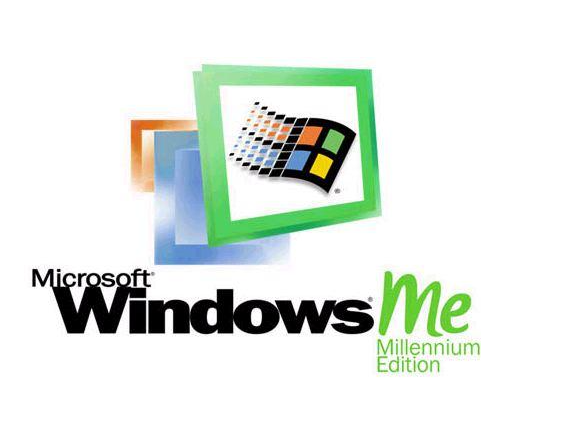 Windows ME was reported as the worst operating system ever released. Just because windows ME was buggy and crash prone it was replaced by the later released Windows xp.
Minimum system specifications for Windows ME were a 150MHz Pentium processor with 300MHz recommended, 32MB of RAM with 64MB recommended, and 320MB of hard disk space with 2GB recommended. It could address up to 1.5GB of RAM.
2001 Windows xp (AKA Whistler)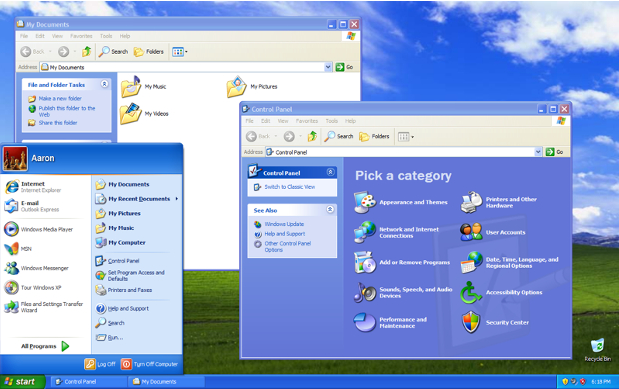 XP – for 'eXPerience' – proved to be one of Microsoft's most successful Windows releases ever: extended support for this durable OS finally ended on April 8 2014 — an unprecedented 12 and a half years after its launch.
It introduced a more intuitive user interface, better hardware support, and more multimedia capabilities.
2007 Windows Vista (AKA Longhorn)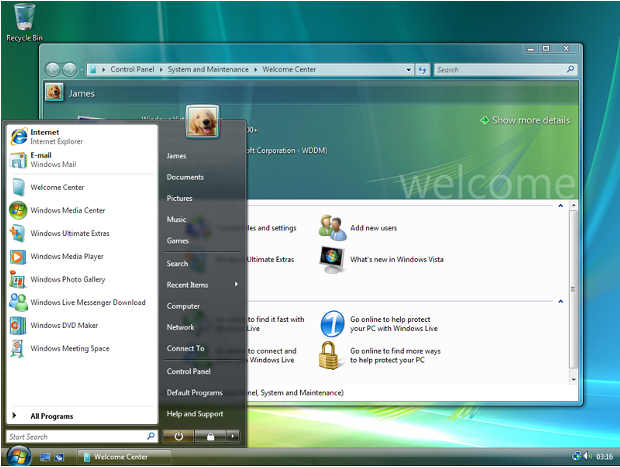 Windows Vista had a convoluted gestation, a delayed birth, and a relatively short life, and retains a reputation as a particularly ill-conceived Windows release.
After a false start on the XP code base, Longhorn (Vista's codename) was built on Windows Server 2003 SP1, having jettisoned key features such as WinFS. Despite an extensive beta test program, general availability of Vista came too late for the key Christmas 2006 PC-buying period.
2009 Windows 7 (Blackcomb)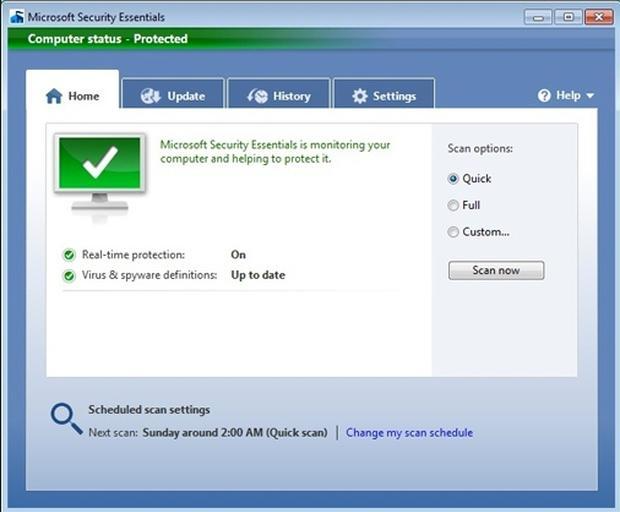 Originally plotted as an update on Windows Vista, Windows 7 would prove a massive success. Windows 7's main new interface feature was the redesigned taskbar, featuring the translucent Aero look, thumbnail previews with live content, Jump Lists of recently-opened files, and Aero Peek for minimizing open application windows to view the desktop.
Other key improvements were a revamped Windows Media Player 12 with internet streaming support, a Device Stage for managing peripherals from one convenient location, fewer User Access Control prompts, faster indexing for the native search improved touch functionality and a virtualized XP Mode for running legacy applications.
2012 Windows 8 (AKA Jupiter)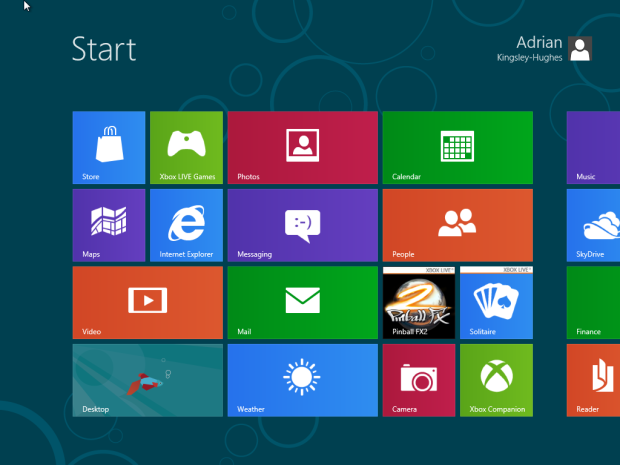 The jury's still out on whether Windows 8 was ahead of its time – or just not all that good. Windows 8 made big changes to the user interface to better suit tablets, reflecting the fierce competition Microsoft was facing from Android and iOS.
Windows 8 came in three 32-bit and 64-bit x86 editions: Windows 8, W8 Pro and W8 Enterprise – plus a fourth, Windows RT for ARM-based systems. The Enterprise edition was only available to Software Assurance customers, and included the Windows To Go feature for creating secure bootable USB flash drives. Pro and Enterprise, which can join Active Directory domains, were the business-oriented editions.
Microsoft's primary focus for Windows 8 was to accommodate touchscreen devices such as tablets and laptop/tablet hybrids, which it did via the flat, tile-based interface formerly known as Metro.
2013 Windows 8.1 (AKA Blue)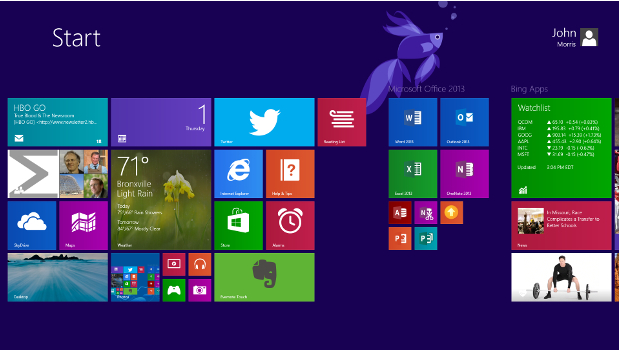 The headline feature in Windows 8.1 was the partial restoration of the much-missed Start button on the desktop taskbar. It was not actually the classic Start button, but a visible button for accessing the more customizable Start screen.
You can also go straight to the desktop on login, and configure the desktop Start button or Windows key to go to the Apps page rather than the Start screen. Essentially a service pack for Windows 8, version 8.1 is a free download from the Windows Store.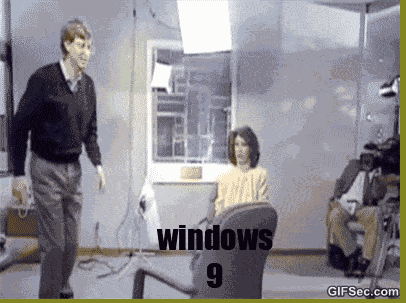 2015 Windows 10 (AKA Threshold)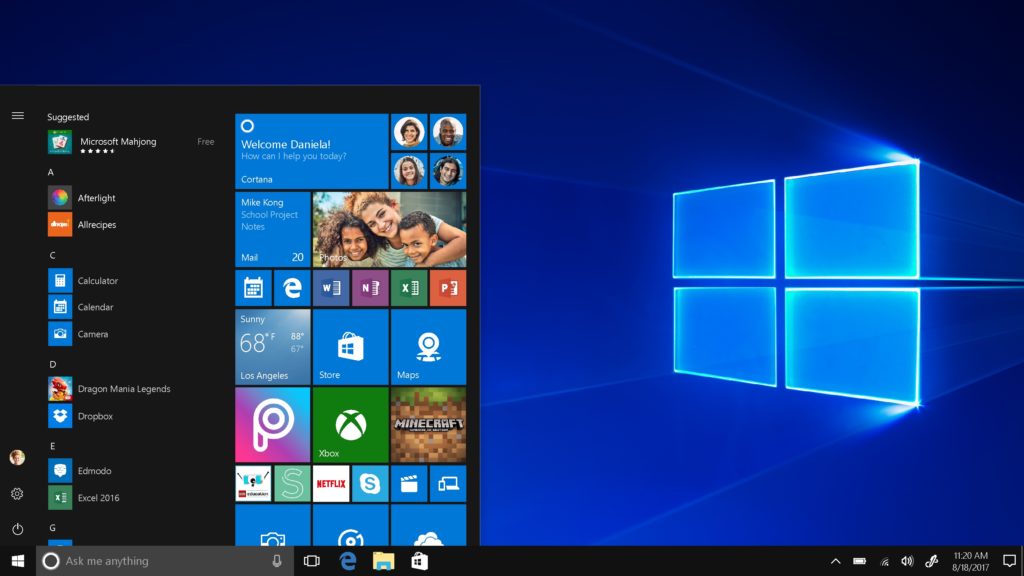 Windows 10 is an incredibly powerful compilation of various operations. It was a huge development by Microsoft as this version of Windows could do a lot more than just running personal computers. Tablets, smartphones, embedded systems, Xbox One, Surface Hub, Windows Holographic, etc., could also use the OS after Windows 10 was launched.